About Jill McGown

- Biography
- Favourite Sites
- Literary Links
- Georgia
Georgia

I didn't have a website when Katy was born – no one did, back in the dark ages of the nineteen-eighties. And no one had a digital camera. But now we have both, so I'm making up for it with these photos of Georgia, my great-niece and Katy's daughter. We thought Katy was a cheerful baby, but Georgia beats her hands down! This page will have pictures of her – I have hundreds to choose from – and will of course be added to from time to time. I know I'm biased, but looking at these pictures cheers me up, and I think they'll cheer you up too.
Georgia – eighteen months
Some pictures taken over the last few weeks. She is saying quite a few words now, and even the odd two-word sentence. And, of course, we're picking up new words from her.

The treatment for my ailments necessitates having very frequent blood tests, so I have a semi-permanent bruise on the inside of my left arm, which fascinates Georgia. She pronounces it 'Bruce', and I now think of Bruce and myself as a couple. Bruce was in magnificent form when she was here last, and though he has gone for the moment, he'll be back when she's here next!

And for some reason, she pronounces 'bear' like Davy Crockett, who, if you're old enough to remember, 'kilt him a bar when he was only three'. Maybe she was a frontierswoman in a previous life.
Anyway, she's an absolute joy, and I hope you like the photos.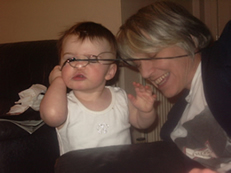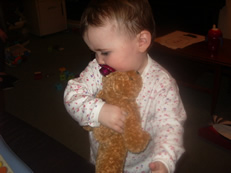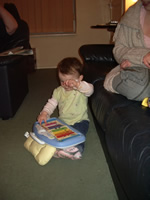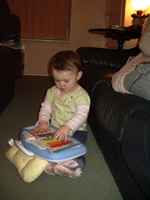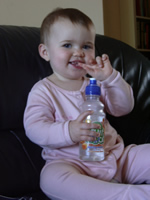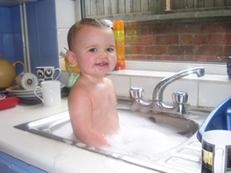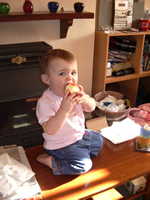 Georgia's holiday snaps
Georgia went to Spain for her holidays, and as you can see, she had a wonderful time. I'm not sure how Katy (her mum) got the one with the sunglasses – she usually whips them off again as soon as you put them on. But then, she seems to know when there's a camera about!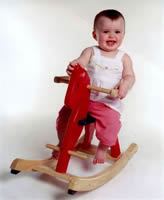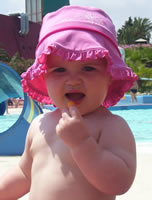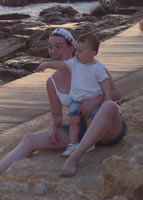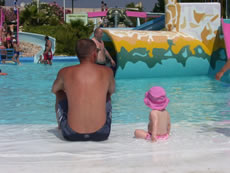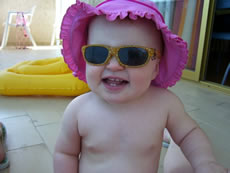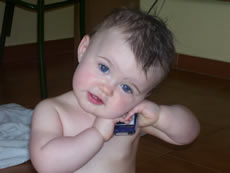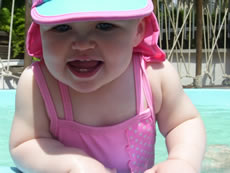 Georgia's other snaps